JAPAND BLOG
I&C: Creating a new value for Furniture and Welfare Industry
This time I would like to introduce I&C Co., Ltd. I&C is an outstanding start-up enterprise with growth even with the fact of the domestic furniture market is shrinking.
With the development and retail of electronic and robotic furniture like the washstand that can adjust the height easily by one button, I&C is providing furniture that is user-friendly.
The washstand "LAP" developed by I&C was exhibited in ICFF (International contemporary furniture fair) in Germany last autumn and it caught the eyes of visitors successfully. Since the foundation part is equipped with an actuator, the users can adjust the height of the washstand from 62 cm to 110 cm by pressing only one button. With this convenient functions, it received great comments (convenient, easy to use, improve the life quality) from people with wheelchair, cane or the elderly.

Even though there are washstands that can adjust the height in the market, mostly put the emphasis on the functionality and neglect the importance of design. For LAP, with the use of natural stones, artificial marbles and sliced veneers, it is fashionable. The latest model of LAP has been on sale since last autumn and over 400 washstands were adopted by welfare facilities and hospitals in Japan. Moreover, there are some overseas enterprises that would like to introduce LAP to their countries.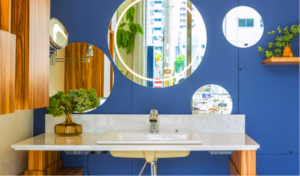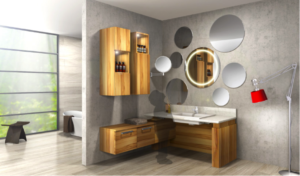 Except selling LAP in the domestic market in Japan, I&C is also progressively expanding their business overseas. Last year, they set up an overseas branch in Denmark for the design and product development. With the hope that LAP could be adopted in Denmark which is famous for its welfare system, the branding of I&C will be spread all over the world. In the same year, they established their showroom in New York, USA.
"Although LAP is now only about 10% of the overall business of I&C, we would like to put emphasis on it. After 20 years, the problem of aging will be everywhere all over the world, and we believe our products will lead to a solution to the problem." mentioned by the president of I&C, Mr. Yukio Sada.
If you are interested in I&C and its product LAP, please feel free to contact us!! Thank you.